North Tyneside Self Management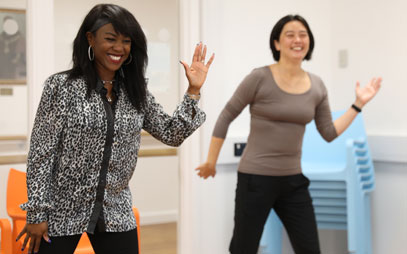 We are delivering an exciting project in North Tyneside that will support people living with arthritis to manage their symptoms and be active in a way that is empathetic to their condition.
We will be providing free classes to people living with arthritis of any kind in North Tyneside. All activities will be delivered both in person and virtually.
If you're a person living with arthritis or support someone who has arthritis, and would like to receive accredited training or help us to deliver these sessions, then we'd love to hear from you. Please contact services@versusarthritis.org or call 0300 790 0433 for more information.
Chi Me Classes
Chi Me is a gentle exercise technique that can be practiced in either standing or sitting positions. It's based on Tai Chi and is a simple and relaxing way to develop better flexibility and muscle strength for people of all ages and abilities. Sessions will be led by a trained instructor in small groups.
Sessions will be held on Mondays from 2-3pm from Monday 17th April, Sessions will be a mix of face to face and online via Zoom. All sessions are free to people living with arthritis and you can attend as many or few as you like.
Bitesize Classes
Bitesize are information sessions that cover a range of issues faced by people living with arthritis including pain, anxiety, fatigue, and sleep. These are delivered in small groups where you'll meet other people facing similar issues and will spend a couple of hours exploring ways to manage your symptoms.
Sessions will be held on Tuesdays and Thursdays 10.30am -12.30pm from Tuesday 18th April. All sessions are free of charge to people living with arthritis and you can attend as many or few as you like. Sessions will be held both in person and via Zoom.
Self Management Course
Linskill Terrace, North Shields NE30 2AY
Dates: 7, 14, 21, 28 September; 5 October.
Time: 1pm – 4pm
In these facilitated sessions you will explore different techniques and strategies for living with arthritis. Participants are encouraged to attend each session if possible in order to get the most benefit. If you're interested in taking part please indicate this on your enrolment form.
Please note, we need to gather some basic information about your circumstances in order to provide the best support for your session. This information will not be shared outside of Versus Arthritis.