Introducing our new research strategy
Arthritis and musculoskeletal conditions have a devastating impact on people of all ages and a huge knock-on effect on the healthcare system and the economy.
The impact of arthritis is huge. More than 20 million people in the UK live with a musculoskeletal condition.
Research can and has changed lives, but the overall investment in and focus on MSK research is not proportionate to the burden of the disease. That needs to change, and we want to drive that change.
We want research to make arthritis preventable, manageable and treatable.
Research needs to be making a bigger difference to people's lives, quicker, so people don't live with the pain, fatigue and isolation of arthritis.
What does our research aim to do?
Our research investment and influencing activities will focus on accelerating the pace and precision of musculoskeletal research.
By that we mean:
A better understanding of arthritis – its causes and why certain people are more affected.
More ground-breaking discoveries, breakthroughs in the laboratory, clinic and community turning into better treatments and interventions quicker, so people feel the benefits in their day-to-day life, sooner.
The experiences of people with arthritis informing research, so it's focused on the areas where it can have the biggest impact.
Our research strategy is a roadmap for delivering this change in musculoskeletal research.
It focuses on four priority areas of unmet need we want to achieve change in with and for people with arthritis. Our long track record in musculoskeletal research, combined with the latest evidence and insight from people with arthritis, the research community, healthcare professionals and partners, told us these are the areas where the needs are the most acute and where we can have the greatest impact.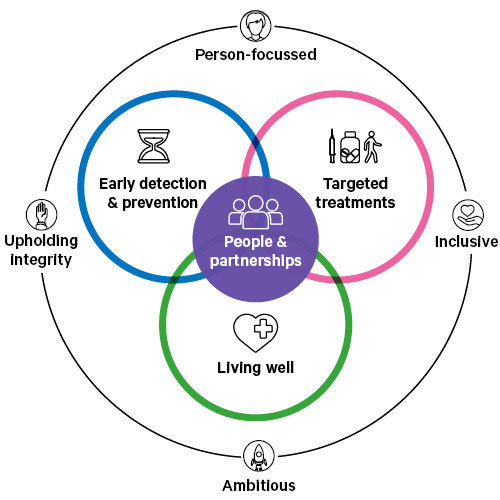 What will our research focus on? 
Early detection and prevention: Spotting the signs early and reducing the impact of arthritis.
Targeted treatments: More effective drug and non-drug treatments.
Living well: More people living well with their condition, feeling supported in their day-to-day life.
People and partnerships: Making life better for people with arthritis becomes a priority for researchers, funders and investors.