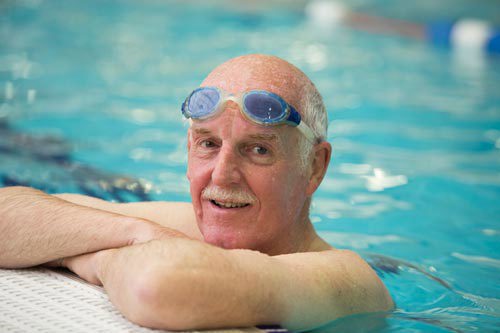 Charles, 62, has lived with osteoarthritis for most of his adult life, having had problems with the tendons in his left leg since childhood. Over the last eight years he's had both knees and his left hip replaced, but his positive approach and passion for swimming have helped Charles to keep doing what he loves.
Charles explains: "I've always been active; enjoying long walks, swimming and playing golf despite having good and bad days with the pain in my legs.
"In my 50s my knees got worse really quickly and it soon limited what I was able to do. But I've always kept on swimming, even during the difficult times when I've had to stop doing other things because of the pain."
Swimming to live well
Charles credits swimming with playing a vital role in helping him to live well with arthritis, saying: "Swimming has helped me in so many ways. I've no doubt it played a big part in delaying the inevitable when it came to having my joints replaced. I wanted to hold off on the operations as long as possible and because swimming is non-weight bearing I could keep my knees moving even on bad days.
"It's also meant I've been more physically prepared for the operations and has helped me to have a speedy and full recovery each time."
"Swimming is the key thing I do to keep my knees and hip as healthy as possible. It's very important psychologically as well. I won't deny some mornings it's a chore getting up and going to the pool, but I always feel so much better for it. After I've been for a swim, I feel great and I think 'I have done something today'. It lifts you."
Fourteen weeks after his most recent operation, Charles is back at work for the National Trust, playing golf, walking in Derbyshire with his wife Karen and, of course, swimming twice a week. He explains: "I love life, so I'm determined to make my new knees and hip last as long as possible and to get the most out of them. Swimming is a big part of making that happen.
"If it wasn't for swimming my life wouldn't be as complete as it is. I wouldn't be able to do everything I enjoy."
"If anyone living with arthritis is thinking of trying swimming, I'd say give it a go. It might not be easy at first, but it gets easier and the benefits are huge. You'll be able to live a fuller life and you'll smile more!"