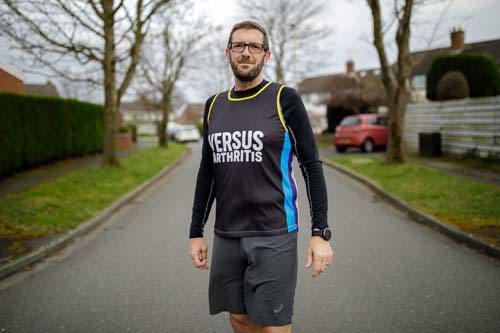 I've suffered with psoriasis since being a teenager. I wore track-suit bottoms to play football, so people couldn't see. And I had a constant aching, especially after exercise.
I was so embarrassed by the amount of psoriasis on my scalp I said I'd never visit a barber again. My wife cut my hair for 13 years.
When I was 40, I had a major back operation. My consultant asked how I'd know if things had improved, 'If I can walk 100 yards,' I said.
Although it's an invisible condition to most, the impact on my life was considerable. Opening jars, changing the temperature of the shower and getting dressed were becoming more and more problematic. That's without mentioning the impact on my mental health.
My wife worked at a GP surgery and noticed a patient with the same symptoms. After some internet research I went to see my GP again armed with information. He agreed it looked like psoriatic arthritis and referred me to a rheumatology department.
After scans, x-rays and blood tests I was diagnosed with psoriatic arthritis. It's a pretty empty feeling when you realise you have something that will never go away.
Thanks to methotrexate, within a week the psoriasis on my scalp had all but gone – I celebrated by visiting the hairdressers.
But my joint problems continued, and at Christmas 2014 I was as low as I'd ever been. As I left work on Christmas Eve I looked back and, in my mind, said goodbye. I couldn't see any way I could ever go back.
A week later I was prescribed adalimumab. Within a week I could feel a huge difference and as the days went on, I was feeling better and better. The inflammation in my joints was subsiding.
At the end of February 2015, I started Couch to 5K, it's a 10-week programme but took me about 15 weeks. It was life changing.
I entered more races and joined a running club. This helped me immensely, lots of great people with encouragement, advice and friendship. Running has helped me lose a lot of weight, which has taken pressure off my joints. And it has really helped my mental health. I have done 17 half marathons, one full marathon, and several 10Ks and 5Ks.
You need to have people around you for support. Family and friends are important. So too are good physiotherapists, occupational therapists and rheumatology professionals. They're not just about fix, fix, fix. They get what you're going through, which is such a relief. It's good to have an outlet that's not your family, because you put a lot on your family.
Last weekend I grouted the bathroom. Three years ago, I simply couldn't have done that.
In 2008 my goal was to walk 100 yards, almost exactly 10 years later I ran 26.2 miles. And I will do it again, at the London Marathon in 2020 for Versus Arthritis.