Active Londoners Programme
The Versus Arthritis Active Londoners Programme ran between 6 of September and 30 of November. The programme was created by Versus Arthritis and funded by the Mayor of London, and it was designed to support people with musculoskeletal conditions and arthritis get active through a variety of tailor-made movement sessions, expert tips and advice. We worked with 6 fitness professionals who were trained to understand the barriers that people with arthritis face. The sessions were free to attend, and they ran in the London Boroughs of Camden, Southwark and Merton.
The physical activity sessions were tailored to suit the mixed abilities of those living with arthritis and other musculoskeletal conditions. The sessions included Tai Chi, Yoga, Pilates, Box Fit, Circuits, Dance Mobility and Athletic Games.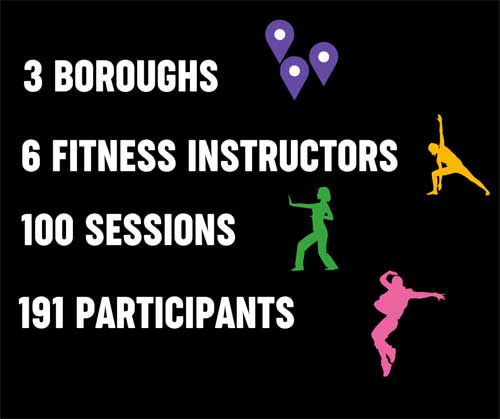 Key figures
Over a period of 2 and a half months we ran 100 sessions - 29 online, 59 face-to-face and 12 email journey sessions. We had 191 participants attend our sessions and as part of the programme, they received tips on how to stay active with arthritis.
Meet the fitness professionals working with us
Bisi Imafidon - Camden
Bisi is passionate about making a difference, she wants to dispel the myths around exercising and arthritis and show the many benefits that being active has.
Christine Coker - Camden
Christine's ultimate goal is to give people easy accessibility to activities and techniques to allow a more fulfilling and stress free life.
Edmund Daly - Southwark
Eddie has over 5 years working in physical activity and has experience of improving quality of life through exercise and behaviour change in both clinical and community environments.
Martina Avellino - Merton
Martina is dedicated to helping people overcome barriers to movement and establish an enjoyable, fulfilling, and sustainable relationship with exercise and self-care.
Monica Bazan-Heath - Merton
Monica is passionate about helping people with MSK conditions become more active. She is interested in discovering new ways to stay active with arthritis and is experienced in working with people with multiple conditions.
Bernard Mapfumo – Merton
Bernard's multi-disciplinary background brings different elements together. Through gentle exercising, Mindfulness and by using techniques to help the body with temporary stress, he wants to help people with MSK conditions become more active.
A few words from our fitness instructors:
Christine: It has been a wonderful social experience for participants and myself. Many hadn't done any face to face exercise for over 2 years, due to the pandemic. People shared experiences around their conditions, they laughed, they moved and they certainly want more of the same! I so enjoyed seeing a difference the program has made to them and the impact on physical and mental health will have a positive long lasting impact.
Bisi: I am passionate about making a difference. It has been so rewarding to see how small changes have had such a positive impact on participants.
*Photograph credit: James O Jenkins/GLA (Greater London Authority)