Health Service Innovation - Partner with us and make a Difference
Professionals Versus Arthritis
In June 2023 we held our first face to face 'Professionals Versus Arthritis' event since 2019 with the aim of recognising 'Innovation against the Odds' within health and social care.
Health and Social Care in Northern Ireland has faced immense challenges in recent years -underfunding, growing waiting lists, staff shortages and of course the pandemic. Yet against this background there are many examples of innovation in the system.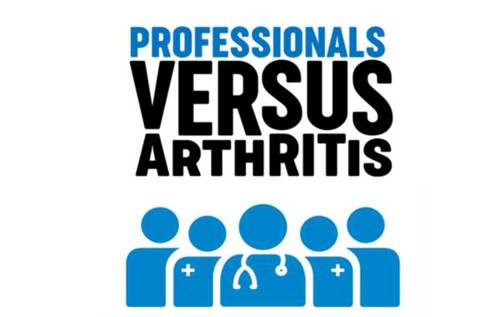 This event aimed to engage and inspire healthcare professionals and decision makers, and:
Celebrate innovation and service improvement in the face of extraordinary pressures within the health service;
Facilitate cross-discipline learning and strengthen the professional community within MSK healthcare;
Raise awareness of issues across musculoskeletal (MSK) healthcare provision.
Wider objectives
Continue momentum of online NI MSK forums, facilitating MSK networks and Community through a face to face event; 
Influence decision makers in absence of functioning government, informing our MSK policy and influencing activity 
Platform the work of professionals involved in all aspects of MSK healthcare  
Highlight the role of the patient voice in healthcare improvement 
Share innovations in service quality and improvement  
Promote Versus Arthritis' 2023-28 Vision, Mission and Strategic Goals and the value of partnering with us
Showcasing innovation: Watch the presentations
SECTION THEME: Innovation in Training and Education

Lived Experience in Healthcare Professional Education
Innovation in Primary Care and MSK Core Skills
Dr Conor Gorman GP Partner, GPwSI Orthopaedics (NHSCT), Clinical Lead GP Elective Care Service, MSK Core Skills trainer https://youtu.be/EUcVaEXatEU
SECTION THEME: Innovation in Research
Personalised research into arthritis care
SECTION THEME: Innovation in Patient experience
Chronic Pain service transformation
Paediatric Rheumatology and transition potential
Dr Dearbhla McKenna Paediatric Rheumatology Consultant [Coming soon]
SECTION THEME: Service rebuild post covid
Orthopaedics rebuild
SECTION THEME: Innovation in Waiting list management and Patient Communication
Quality Improvement in Orthopaedics
Adult Rheumatology and service initiatives addressing waiting lists
Next steps
Versus Arthritis is building on the momentum of the event to explore more opportunities to work together with politicians, healthcare professionals and service planners and commissioners to support people with MSK conditions. We are also working to capture what was delivered on the night as 'Stories of Change' in health service improvement.
Images from the event
What participants said
'Wonderful event, a pleasure to have been given the opportunity to present, hopefully (we) can make some stronger connections with the Versus Arthritis team'
'Well organised, great speakers, very useful taking info back to my colleagues' 
'Thanks for enabling and encouraging collaborative working to facilitate the patient journey'
'Really good to hear and share learning- will try to implement some of these within practice'
'I am hoping to take part in innovation and now feel I could contact some people who might be able to help/ participate'
'Hopefully doing things together to improve the service/patient care- breaking down silos' 
'Service improvement and motivation to get Versus arthritis more involved in our area'
'Highlighting ways services innovate and partner with VA'
'New initiatives and also being reminded about how useful Versus Arthritis programmes are!' 
'Always great to hear what other trusts are doing and to try and bring to your own team!'
'Hearing from other clinical areas, networking and opportunity to showcase ongoing work' 
Patient Voice feedback
'It was amazing and I feel privileged to be a part of it'.
'It was a real forum for our exhausted - but enthusiastic - rheumatology / medical teams to showcase amazing resilience and enthusiasm in the face of political and post-pandemic drift. Real links and understanding between VA and our health professionals. It was good to see so many presentations demonstrating how VA fits with and adds value to their work'.
Partner with us
Contact Anna Lyons, Professional Engagement Manager Northern Ireland, by email a.lyons@versusarthritis.org or professionalengagement@versusarthritis.org to explore partnership opportunities.
Contact John McCormick, Policy and Engagement Manager Northern Ireland, by email NIPolicy@versusarthritis.org to explore policy development and find out more about campaigns.