At Versus Arthritis, we want to be a great employer, focusing on flexibility, inclusion, collaboration and health and wellbeing. We live our values, putting people with arthritis at the heart of what we do.
We need the very best people to help us achieve our ambitions. We have a motivated and talented workforce which we want to retain, support and develop. But we also want to attract new talent. We know our cause and ambitions make Versus Arthritis an attractive and exciting place to work. We believe our employment offer to mirror this.
We believe our employment offer is compelling and competitive. It's been developed with our people to reflect what matters most to them, the value that we place on people and our beliefs as a charity. This is the Versus Arthritis employment offer.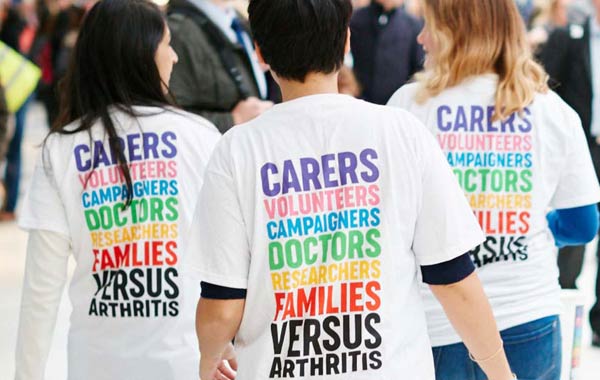 Annual leave
When you start, you'll be entitled to 34 days annual leave including public holidays, rising incrementally to 38 days annual leave after you've been here four years. You can also buy and sell up to five days of additional annual leave each year.

Health and wellbeing
We're committed to the health and wellbeing of all our employees and we aim to be an exemplar employer for people with arthritis and other musculoskeletal conditions.
We provide a health plan scheme which supports you with health care costs for everyday health treatments such as dental check-ups as well as physiotherapy and other complementary therapies.
Flexible ways of working
Our working environments and practices encourage and support you to have greater control in where, when and how you work. You will be supported to work flexibly, collaboratively and inclusively to meet your needs and the needs of the organisation. From standing-friendly meetings and smart use of technology, to flexible working hours and locations, we want our people to have a healthy work/life balance.
Eyesight tests
We make a contribution towards the cost of your eyesight test and prescription glasses or contact lenses, helping you maintain good eye health.
Advice and support services
You'll have 24/7 access to our employee assistance programme (EAP). It'll provide you with free, impartial and confidential advice and support to help you live well, be well and work well.
Parenting Policies
We are committed to supporting our people as they become and during their time as parents. In addition to our flexible ways of working, we also provide enhanced maternity, paternity and adoption pay and enhanced paternity leave to help you make the most of the precious time with your newest family members.

Learning and development
We want you to keep developing your skills, and you'll have opportunities to do this with face-to-face and online learning. We also offer a programme for our people managers, including core management skills, managing change and managing mental health in the workplace.

Pay and finances
Pay
Your pay will be reviewed annually in line with our pay policy.
Pension
When you start, you'll have access to free and independent pension advice through Lucas Fettes Financial Planning Ltd.
If you qualify you'll be auto-enrolled into our group personal pension plan provided by Royal London. To start with you'll contribute 3% and we'll put in 6%. After your first year you'll have the option to increase it to 5% and 10%.
Life assurance
In the event of death in service, your nominated beneficiary would receive four times your annual salary. This is provided through Zurich.
Giving something back
We can help you give a little back to any charity of your choice. You can join the payroll giving scheme, which sends a donation directly to your chosen charity from your salary every month.
Interest free loans
You can take advantage of interest-free season ticket loans for public transport and car parking if your contract term is over 12 months. If you prefer to come into work under your own steam, then you might like to sign up to our cycle to work scheme.  Interest free loans are also available for employees who are experiencing financial hardship.