Living Well with Arthritis
Our Living Well programme aims to support people living with arthritis or any other long-term medical condition to get active and stay active, in order to live well with your condition.
Evidence shows that physical activity is good for us, even when we have a long-term condition like arthritis. Regular physical activity has many benefits and helps us to remain well for longer and manage our pain more effectively.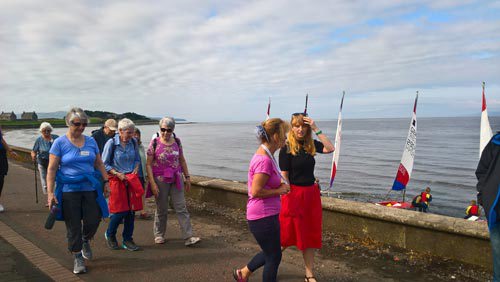 Our Living Well programme is designed to bring together people facing similar health challenges to support each other in finding ways to better health, through self-management and physical activity.
The first step is to get in touch with us for a chat about what's in your area and how you can get involved.
Self-management programmes
"Each and every one of Yennie's thoughtful and engaging self management sessions left me a little better equipped to live with my 'new normal'."
Self-Management is a partnership approach and works well alongside the best medical care and support. The key is getting the power balance right. In a truly person-centred approach, people with long term conditions are in charge.
Gaining self-confidence and improving self-esteem are critical to supporting us to be in the driving seat of our lives. We all have the right to good quality, non-biased, accurate and accessible information on a range of issues. This is a vital tool to support Self-Management for people with long-term conditions.
There are five workshop modules available, covering a range of topics:
Introduction to person centred self-management
Effective communication
Understanding pain and other symptoms
Activity and exercise
Managing change
The modules are delivered by trained volunteers who have experience of using self-management techniques to live well with a long-term condition. Alongside the sessions, we offer the opportunity for you as participants to continue to meet as a group, expand your activities and continue to support each other within your local community. Sessions are delivered in different areas, depending on the capacity of staff, volunteers, and our knowledge of local demand.
Q & A about Self-management
Q: Who can attend?
A: Anyone living with arthritis and/or related conditions, who may sometimes find it difficult to cope with the impact on day-to-day living.
Q: How long do the self-management modules last?
A: Each module lasts half a day, either a morning or an afternoon.
Q: How many modules do I have to attend?
A: Everyone will be invited to attend an introductory module. The trainers will then design a future programme having identified the most relevant workshops for each group's needs. This may be one module, or all five modules.
Q: What happens then?
A: As part of the process, participants can continue to meet to provide on-going peer support to each other.
Please get in touch for a chat about what's in your area and how you can get involved. Contact livewell@versusarthritis.org or call us on 0141 954 7776. You can also become a Self-Management volunteer after you've had the relevant training.
Peer support
"I had been trying to make some changes in my life and I got a lot of really helpful feedback from the group when I explained what I was trying to do. I would not have been able to make so much progress towards my goals without the help and support of the rest of the group."
Peer support is when people use their own experiences to help each other. There are different types of peer support, but they all aim to:
bring together people with shared experiences to support each other
provide a space where you feel accepted and understood
treat everyone's experiences as being equally important.
involve both giving and receiving support.
We often find that when groups of people with long-term conditions come together to attend self-management sessions, they recognise the benefits of meeting with others on the course and want to stay in touch when the course is finished. However, peer support can also be set up by anyone who would like to meet with other people experiencing similar issues, such as chronic pain. Versus Arthritis offers training, advice and financial support to help set up peer support groups.
Please get in touch for a chat about what's in your area and how you can get involved. Contact livewell@versusarthritis.org or call us on 0141 954 7776. You can also become a peer support volunteer after you've had the relevant training.
Tai Chi for Arthritis
"Class was excellent in focusing mind and body and making you aware of your body and surroundings."
Dr Paul Lam, a doctor and Tai Chi master based in Sydney, developed a Tai Chi program for people with arthritis based on the Sun style. It uses a set of 12 movements and qigong breathing exercises. This gentle form of exercise is suitable for everyone including those with different types of arthritis and related conditions. Our Tai Chi for Arthritis classes normally run for one hour each week for up to 6 weeks and in some of our locations they run for longer periods. We know that Tai Chi can help you to:
Improve balance, flexibility and muscle strength
Reduce pain and stiffness
Increase your sense of wellbeing
We provide training for volunteers who run classes in their own communities, and currently have classes in various locations, including Argyll & Bute, Grampian, Highlands, Orkney and Dumfries & Galloway.
Please get in touch for a chat about what's in your area and how you can get involved. Contact livewell@versusarthritis.org or call us on 0141 954 7776.
Health Walks
"It's good to get out and about as I'm on the waiting list to have a knee replacement and I'm aware of the benefits of walking, I have recently been recruited as a Walk Leader and I will be attending my training shortly"
Walking is a simple, cheap and very effective way to exercise. It increases strength and flexibility, reduces joint pain, and helps combat fatigue. A lack of exercise can make your joints even more painful and stiff because the surrounding muscles become weakened, and that puts more stress on the joints.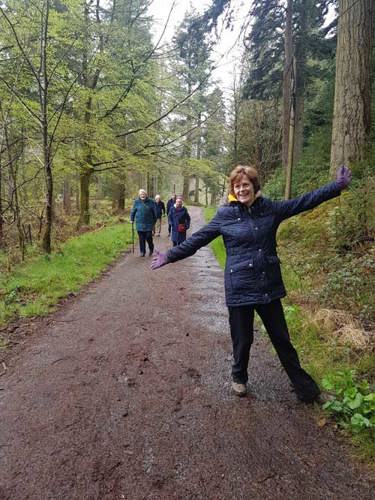 In collaboration with Paths For All, we recruit and train volunteers to run health walks for people living with a long-term condition in various locations, including Grampian, Argyll & Bute, Ayrshire & Arran, and Dumfries & Galloway.
The volunteer walk leaders provide opportunities to meet other people for a chat as well as enjoy some gentle exercise, followed by a warm cuppa and maybe even a biscuit or two. Please get in touch for a chat about what's in your area and how you can get involved. Contact livewell@versusarthritis.org or call us on 0141 954 7776.
You may also want to view our Walking your way to Happiness for help with getting started.
Train the Trainers
"Great course, have learned valuable tools which I will take forward."
This is a three-day SQA accredited course offering you an opportunity to develop confidence and skills when delivering training. The course will provide you with an understanding of different learning styles and a range of materials to support future delivery. Upon completion of the course, you will have learned the essential elements involved in preparing, planning and delivering training.
You can also learn more about:
Facilitation and its role in the learning process
Group Dynamics
Dealing with challenging situations
Learning Styles
Delivering effective presentations
Using handouts, slides and flipcharts
Adult and experiential learning
Giving clear and appropriate verbal instructions
Ice breakers and energisers
Delivering relaxation techniques within a training session.
Successful completion of this course will not only provide you with an SQA certificate, but also provides everything you need to deliver a self management programme for people with long-term conditions in your community. See Self-Management Programme.
Please get in touch for a chat about what's in your area and how you can get involved. Contact livewell@versusarthritis.org or call us on 0141 954 7776.
Pain Toolkit
"My life was on hold feeling miserable. NOW I have a bit of my life back ... Most people see a difference in me."
The Pain Toolkit was developed by Pete Moore - who has long-term pain and other health problems - together with pain management clinicians. The materials he developed can be delivered as a one-day or half-day session for people living with persistent pain.
Pain self-management is about learning new (or using old) skills, trying them out and to see what works for you.
Please get in touch for a chat about what's in your area and how you can get involved. Contact livewell@versusarthritis.org or call us on 0141 954 7776.
Arthritis Awareness
"Just to say a big Thank You for yesterday … we all enjoyed your talk."
We also deliver a range of bespoke Arthritis Awareness sessions to both large organisations and smaller community groups, by request. We work with you to tailor our presentations and awareness raising sessions to best meet your needs.
Partnership Working
Partnership working across Scotland's Health and Social Care landscape remains a key aspect of our shared, person-centred approach to supporting people to live well with arthritis and other long-term conditions.
We are founder members of Let's Get On With It Together (LGOWIT), a partnership to promote and support the vision for self management in the Highlands. The partnership includes NHS Highland, The Highland Council, University of the Highlands & Islands, third sector partners and independent partners. LGOWIT secured funding in 2016 from the Alliance, to run a project delivering self-management sessions and peer support groups.
We deliver the SQA accredited training for LGOWIT volunteers, who offer approximately 16 courses per year (using the Versus Arthritis SM Modules) and they have developed over 20 Living Better groups covering much of the North Highland area, offering peer support opportunities, sharing information, and participating in accessible activities. Anyone with a long-term condition can attend sessions and groups by contacting LGOWIT on 01349 807061 or lgowitadmin@highlandtsi.org.uk.
In Argyll and Bute, the Healthy Living Partnership has been delivering collaborative self management programmes since at least 2014. Our current partners are:
MS Centre
North Argyll Carers Centre
Lorne & Oban Healthy Options.
Health & Social Care Partnership Argyll & Bute
TSI Argyll & Bute
Live Argyll
Versus Arthritis
In 2019/20 the Partnership was successful in its collaborative funding application to the ALLIANCE. As a strong and responsive partnership, we have delivered a range of self-management activities across Argyll and Bute as well as delivering a chronic pain and self-management event in Inveraray with over 50 local people attending. The service delivery continues now as a mixed approach - some of the activity is volunteer led and some is staff led and volunteer supported. This allows the model of peer support to be sustained across all activities.
We are actively looking to develop new relationships for collaborative working to increase our partners in areas of specific need.
In the Lothian area, we've been working in partnership with Edinburgh Health and Social Care partnership since around 2016, to support staff and volunteers to deliver Self-Management (Lifestyle) workshops three times a year over a ten-week period. The partnership is expanding its reach across Lothian working with the Long-Term Conditions Network.
Their bespoke delivery has been developed to include physical activities, talks from support organisations and referral information on local resources but is based on the Versus Arthritis Self-Management modules. We also deliver SQA accredited Training for Trainers to partnership members, which includes health and social care professionals within the network.