What is the Major Conditions Strategy and what does it mean for people with arthritis?
24 July 2023

In January, the government announced plans to tackle England's biggest health challenges – and, for the first time, they've recognised musculoskeletal conditions, including arthritis, as a priority. These plans are called the Major Conditions Strategy, and this strategy applies just to England.
Since the announcement, we've been working hard to show the government how they can take this crucial opportunity to improve care and support for people with arthritis.
How are we shaping the Major Conditions Strategy?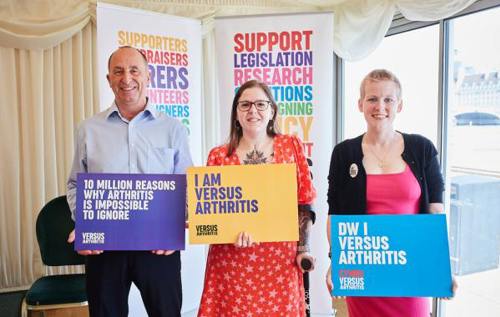 Sometimes the government will publish their initial ideas and ask the public for comments and feedback. This is called a consultation.
The Government launched a consultation through a survey, to help shape the Major Conditions Strategy, and in June we shared this with our supporters in England.
We're really grateful to you for sharing your stories and experiences and telling the government about the care and support you need to live the lives you choose. Thank you – we couldn't do our work without our amazing supporters like you.
We sent a detailed response to the government consultation, setting out why people with arthritis need better care and support, and how this can be achieved.
To inform our response, we listened to people with arthritis, researchers working on arthritis, and health professionals. We made sure that their ideas, evidence, and examples were pride of place in our response.
What do we want from the government?
We're calling on the Government to:
Make sure that people with arthritis can access tailored physical activity support and advice that meets their needs.
Include more major conditions, including arthritis, into NHS health screening programmes.
Put measures in place to make sure that people with arthritis get an earlier diagnosis and earlier access to support to help them manage their health.
Make sure people with arthritis can make shared decisions with their health professionals about what matters to them, supported by training on arthritis for all front-line health and care staff.
Provide more support to help people with arthritis waiting for joint replacement surgery to wait well.
Improve care and peer support for children and young people with arthritis.
Promote employment support that helps people with arthritis stay in or enter work, like the Access to Work programme.
Fund more research into musculoskeletal conditions.
Living with multiple conditions
One of the aims of the Major Conditions Strategy is to improve outcomes for people who have multiple heath conditions.
We know that 1 in 8 people in England are living with at least two long-term health conditions, one of which is a musculoskeletal condition. If one of your long-term conditions is arthritis, the pain and mobility issues you may experience can make it harder to do day-to-day activities and manage other health conditions.
Our response included many ways to improve care and support for people who are in this position.
We will carry on working to influence the Major Conditions Strategy behind the scenes and we're waiting for the publication of an interim government report on it soon.
Prioritising arthritis is an exciting step, but these plans must also come with meaningful action on the issues you have raised.
We're here to help 
If you need advice or support, you can: