What is campaigning? Why Brenda and Elaine campaign for people with arthritis  
01 June 2023

We won't rest until everyone with arthritis has access to the support and treatments they need. 
To make this a reality, we campaign on the issues that matter the most to you – whether that's surgery waiting timings or the cost-of-living crisis.  
What is campaigning? Who are our campaigners?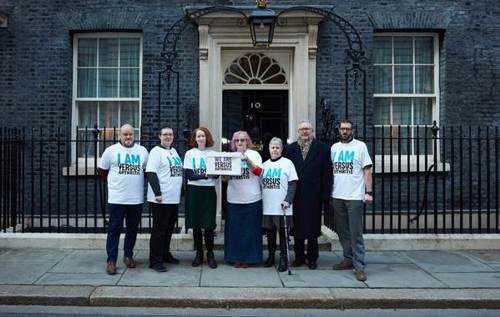 Campaigning is all about influencing decision-makers, such as politicians to make a change in your community — and we couldn't do it without the help of our incredible campaigners.  
That's the people like you who sign our petitions, share your stories and speak to politicians about the reality of living with arthritis. 
From signing a petition to sharing your story on TV, there are so many ways you can get involved. And every action you take, big or small, helps us inch closer to a future where people with arthritis can get access to the care and support they need.  
We spoke to some of our incredible campaigners across the country about what campaigning means to them and why they got involved. 
Brenda, a campaigner in England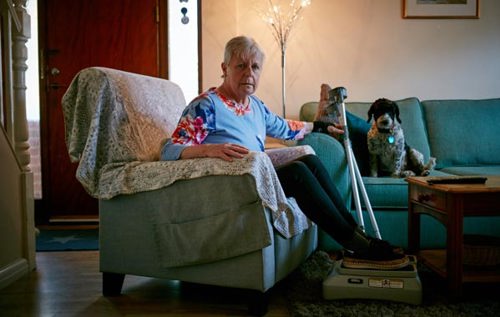 Brenda, who has osteoarthritis, discovered Versus Arthritis when she was "in the most terrible pain".  
"I felt very alone. I was getting a bit desperate, and I couldn't get the access I needed to medical help," says Brenda. Then she found Versus Arthritis. "I thought 'This is somebody who understands. Somebody who really knows what I'm going through'. It's been my source of strength." 
Wanting to speak up for other people with arthritis, Brenda got involved in our campaigns. And over the past year she's signed petitions, shared her story with us, and even spoken to news organisations like BBC Panorama about her experience waiting for joint replacement surgery. 
"When you think the whole world is against you and no one understands you, Versus Arthritis is there. I feel so supported, which is why I feel so strongly about campaigning and raising funds. I've got so much more out of it than I put in."
Why did you get involved in campaigning?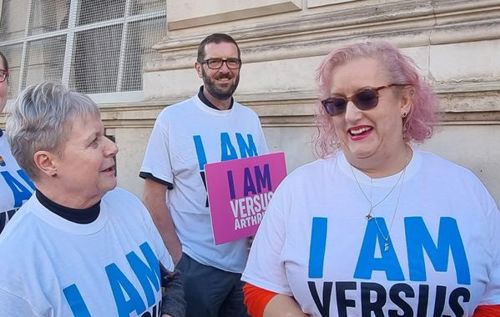 "Arthritis can be isolating because you're in so much pain all the time. It's eased that feeling a lot," Brenda says.  
"It's also really helped me regain a sense of purpose. I feel like I belong to a community that's making a difference to other people's lives." 
"Fortunately, I've been quite lucky to get help. But there's a lot of people that aren't as vocal as me, where English isn't their first language or where they may have other disadvantages. So, I'm doing it for them as well."  
What does campaigning mean to you?  
"To me, campaigning means: Let's not be forgotten. Let's keep pushing," Brenda says. "If you do nothing, nothing will happen. Every signature helps. Every little interview helps. Anything that you can do to push our cause helps." 
Elaine, a campaigner in Wales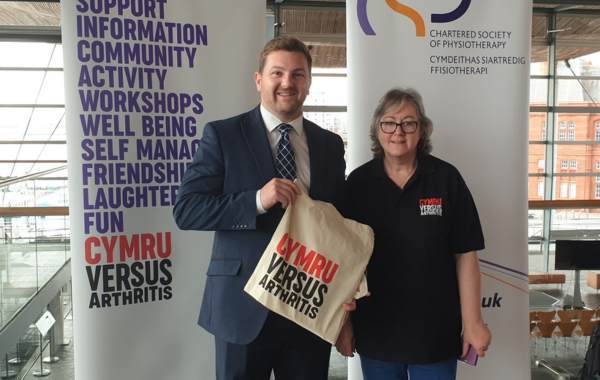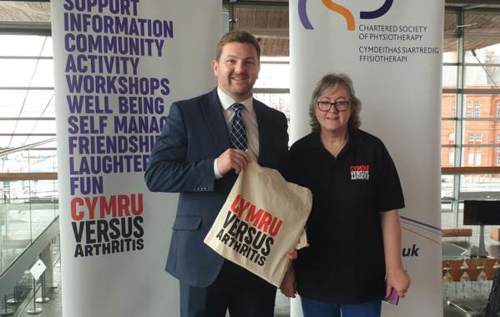 Some of our campaigners in Wales have taken on a dedicated Campaigns Volunteer position at Versus Arthritis. We call them 'Change Makers'.  
Elaine, one of our Change Makers in Wales, says it's vital that we raise awareness about arthritis because "there's a general feeling that arthritis is something that people get when they're much older and it's just a little bit of 'wear and tear' which isn't true." 
She finds campaigning has also been empowering. "Finding out more about the conditions helps you realise that you're not alone," she says. "You discover you have a voice, and you can use it." 
What campaigning work have you done? 
Last year, on World Arthritis Day, we organised an event at the Senedd, the Welsh Parliament. We wanted to raise awareness of the impact of arthritis on people's lives – and Elaine played a big role. 
"We wrote to the Members of the Senedd (MSs) inviting them to the event and then I was one of the Change Maker Volunteers who spoke to them at our stall," Elaine says. "Over a third of the Members of Senedd attended, so it was a really successful day."  
Sometimes the government will publish ideas and ask the public for feedback on the issues that matter to them. This is called a consultation. By helping us write responses to these consultations, Elaine is making sure that government listens to people with arthritis.  
"It's important because it's coming from the point of view of people who are living with arthritic conditions and who are living with pain," she says. "We consider the ideas in the consultations, identify gaps and make suggestions that might be helpful."  
What has been your biggest achievement? 
"For World Arthritis Day, we asked local organisations to light iconic buildings blue to raise awareness of Arthritis," says Elaine. "The National Botanic Gardens of Wales tweeted a photograph of the iconic Great Glasshouse with a message about World Arthritis Day and our County Hall stood out on the hill, in blue.  It was wonderful and emotional to see." 
What advice would you give to someone considering campaigning?  
"People might say, 'I don't think I could do that,' but you can do as little or as much as you want," says Elaine. "Any little thing you can do can help, whether it's signing a petition or being involved in a discussion about a manifesto, or sharing your opinion about living with arthritis." 
"You're always given support by a member of staff. So, dip your toe into the water and try it. I suspect that if you tried it, you would enjoy it, and you would appreciate having a voice in decisions about what's going on."