From kayaking to crafting: how Josephine manages her osteoarthritis pain
10 November 2023

Josephine, 76, is a retired swimming teacher from Surrey who has osteoarthritis and fibromyalgia.  
Here, she tells us how exercising and crafting have helped her to manage her conditions, and offers advice on how to get into new activities. 
Kayaking
Josephine has always been a keen walker. Unfortunately, she's found that long walks are becoming painful due to her osteoarthritis. 
Osteoarthritis can affect any joint in the body. While our joints are made of complex living tissue that our bodies constantly repair and maintain, osteoarthritis occurs when our bodies can no longer do this effectively. The cartilage becomes thin, and the joint cannot move as easily as before, causing pain, stiffness and sometimes swelling as the body attempts to repair the joint.   
Josephine's physiotherapist advised her to cut down on walking, but she was keen to stay active and spend time outdoors. So, she decided to give kayaking a go.  
"There's a local lake and my daughter was going kayaking," says Josephine. "She said 'Come on Mum, have a go'. I got in that kayak and thought 'Wow! I'm out in the fresh air, I'm moving, but I'm not putting weight on my legs.' It's perfect."  
Since then, Josephine has found lots of different places to go kayaking. Her son lives in France, and she's even been out on the river Loire.  
"We drove to a place nearby and did 14 kilometres on the tributary," she says. "Although it's downstream, there's not much of a current. It was just lovely, we had the river to ourselves, lots of wildlife. We got there half an hour quicker than the map had recommended, so I was quite pleased with myself." 
Getting started with kayaking when you have arthritis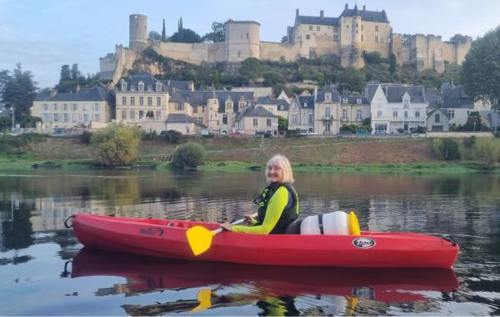 Starting a new exercise when you have arthritis can be daunting. With any new exercise, it's important to build up slowly and get into a regular routine. 
Josephine acknowledges that there are some challenges to kayaking with arthritis. "Getting in the kayak is interesting, particularly when you have knees that don't like to bend and hold your weight," she says.  
So, Josephine recommends being careful when getting into the kayak. "It's the hardest thing, but you can do it. You have to take it slowly." 
Josephine also recommends kayaking with a group of people. She introduced kayaking to her friends at the Women's Institute (WI), and they now all go together once a week.   
"We have a group called Have a Go," says Josephine. "I asked them if they fancied going kayaking and we did a taster session at Hawley Lake sailing club. Now we have a regular slot there once a week. The staff there have been so accommodating and helpful." 
Josephine's friends are all mixed ages, which she finds helpful when exercising. "It's no good being with people the same age as yourself all the time," she says. "I'll go out with my granddaughter or my grandson. I've got some very elderly friends too. Get a variety." 
Alternatively, if you can't find people to go out kayaking with you, you can always share your experiences with others on social media. Josephine is an active member of the Let's Move Versus Arthritis Facebook group, where people with arthritis can connect over exercise and share tips. 
"The Facebook group is lovely. It's a nice community, people are chatting and you get to meet new people. You realise you're not the only one."
Josephine's final piece of advice is to set yourself a goal, no matter how big or small. "My aim is to go to all the tributaries of the river Loire," she says. "I'll kayak whenever I can." 
Exercising at home 
It isn't always easy to exercise outside, especially when you have arthritis. But even simple exercises at home can make a big difference in terms of mobility and strength. Plus, they're accessible for everyone and don't cost a penny.  
Josephine adds movement into her daily routine to keep herself strong and reduce stiffness in her joints.  
"I exercise as much as I can," she says. "I'll do exercises here and there in the kitchen. I do some exercises if I stand at the sink, such as standing push ups to keep my upper body really strong." 
Versus Arthritis offers stretching 'follow along' videos specifically to help people with arthritis to maintain flexibility and to help relieve stiffness. The videos are led by physiotherapist Jay and can be easily incorporated into your daily routine. All of the exercises are designed to be done at home, with some of the fun movements making use of everyday household objects. 
Crafting 
Alongside her love of exercise, Josephine is also a keen crafter.  
"My craft is my saviour," she says. "I'm a textile artist and I've always got some kind of craft on the go. I do a lot of embroidery, patchwork, weaving, felt work and lots of other crafts."  
Josephine recommends crafting to people who have arthritis pain, as it can be a great distraction and keeps your hands busy.  
"If you're in pain, a couple of hours of crafting can really help," she says. "It's something that will distract you from yourself, no matter how mobile or immobile you are. Knitting is really painful at the moment so I'm not doing that, but saying, 'I made that!' is a great sense of achievement. 
"I love going to craft exhibitions but walking around them is a killer. The following day I'll be exhausted, but it's worth it for all the things I'll see there. I'd rather do things and cope with the consequences. 
"You're never too old to try new things, even if you don't like it. Have a go." 
We're here to help 
If you need advice or support, you can: