How nine-year-old Sfiyah is raising awareness of JIA
13 November 2023

Nine-year-old Sfiyah was diagnosed with juvenile idiopathic arthritis (JIA) last year. While the diagnosis was a huge shock for Sfiyah and her family, Sfiyah has become very passionate about raising awareness of arthritis. 
JIA starts before age 16 years, and happens when the immune system, which is the body's natural self-defence system, attacks the body. This causes many symptoms including painful, stiff and swollen joints. 
Sfiyah's JIA diagnosis was quite recent, but Sfiyah is already keen to give back to the arthritis community. From taking part in a fun run to writing to politicians, Sfiyah and her mum Parvina tell us how they're spreading the word about arthritis in young people.
The fun run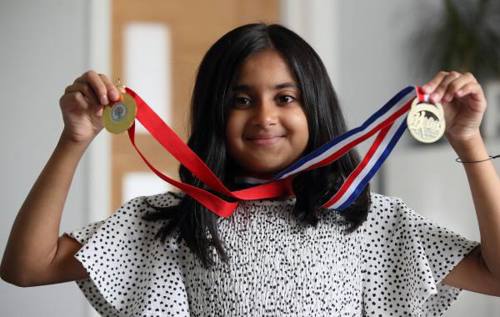 Despite around 12,000 young people in the UK living with JIA, there is still a common misconception that arthritis solely affects older people. Sfiyah and Parvina are keen to show that arthritis can affect anyone at any age. 
Earlier this year, Sfiyah took part in a fun run to raise awareness of JIA. She raised over £1600 for several charities, including Versus Arthritis.  
"I wanted to do something for charities that help people with JIA because they've helped me a lot," says Sfiyah. 
Research has shown the benefits of regular exercise for people with arthritis, and physical activity is generally safe if you have JIA. Unfortunately, Sfiyah experienced pain in her knee at the start of the race and fell over very early on. The day was very emotional, but she still made it to the finish line.  
"She was with her crutches for a little bit, but we helped support her to the end," says mum Parvina. "People had donations at the finish line, and everyone roared and cheered."  
Parvina is incredibly proud of Sfiyah's achievement. "She was so brilliant and brave and courageous," she says. "She didn't realise what impact running it could have on her body. The fun run highlighted what she can't do, but what she can also achieve." 
Raising awareness in school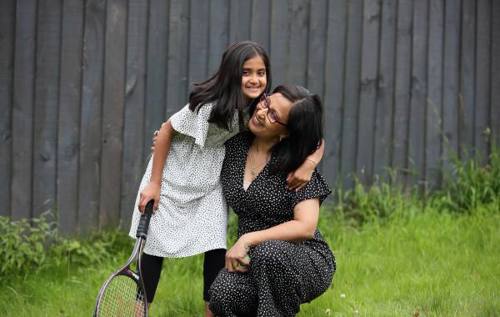 Many young people with arthritis can find school challenging. It can be difficult to concentrate on schoolwork when you're in pain, or you might not know how to tell teachers or peers how you're feeling.   
Sfiyah's JIA affects her at school, especially when it comes to sports. "My JIA stops me from doing a lot of things, like playing in the playground in school because I can't run around as much because of my knees," she says. "In PE, we play football or rugby, and I can't join in as much as it hurts my knee a lot to kick a ball." 
Sfiyah has been raising awareness of JIA in the classroom by educating her peers and teachers. She hopes that this will help others to understand her condition.  
"Sfiyah's done a talk in school," says Parvina. "And she regularly has chats and assemblies highlighting her condition, and just awareness of arthritis in general. She made goody bags for everyone in her year to say thank you for understanding her JIA and helping in school too." 
If you have JIA and are concerned about taking part in PE, it's important to talk to your teachers about how your arthritis can affect you and how you feel when it's bad. You might be able to still take part but in a less intensive way if your arthritis doesn't allow you to on some occasions. 
World Arthritis Day 
This year, World Arthritis Day took place on 12 October. With 27 lit up buildings in Wales and Northern Ireland, people sharing their stories on social media, and events taking place across the country, it was a great way to raise awareness of arthritis.  
Sfiyah was a part of this, with photographs of her and Parvina being shared on social media to encourage others to join the Versus Arthritis community and change the way the world sees arthritis.    
Sfiyah's message to people is clear. "If there's someone that you know that has arthritis and they don't have any support, then support them," she says. "Be aware of JIA. And help by donating and understanding."  
Share your story and join our community 
Writing letters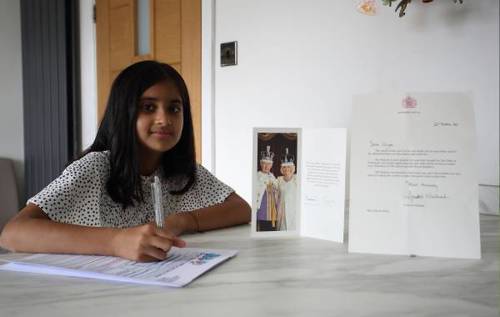 Sfiyah also raises awareness of arthritis through her love of writing. Earlier this year, she wrote to her local Member of the Senedd (the Welsh parliament) to request an increase of services in her local area and to improve understanding of arthritis in schools.  
Sfiyah's letter was sent on to the Minister for Health and Social Services in Wales and the Minister of Education and Welsh Language.  
"They both replied saying it was nice to read her story and that there are a lot of changes being made," says Parvina. 
And Sfiyah's enjoyment of letter writing doesn't end there. She has also written to and received a reply from Sir David Attenborough!  
"Sfiyah wrote a letter to David Attenborough about the impact of pollution on the planet and that we need strong people like him to give little people a bigger voice," says Parvina. "He replied back to say he agrees and that we need to change the world to change the impact of everything that's going on.  
"Sfiyah has taken that on with her JIA – she says if we don't change the way people think about JIA and raise awareness then how will we find a cure and help other children like her? She's taken it upon herself to spread the word and highlight that we need more funding." 
The Young People and Families Team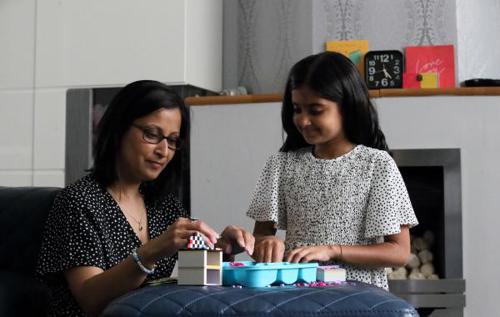 Versus Arthritis runs a Young People and Families (YPFS) service that provides information and support for people under 25 who have arthritis and their families, including putting on a range of events across the country.   
"Elinor [my YPFS worker] has helped me a lot," says Sfiyah. When there are events going on but I'm having a bad day so I can't go, she'll give me an activity to do at home. She has a chat with me and talks to me about how I'm feeling." 
The service offers much needed support to young people and their families, including support with schools, advice on how to live well with arthritis and the chance to meet other young people and their families and realise that they are not alone.  
Sfiyah has benefitted from attending a number of Versus Arthritis YPFS events, and enjoys being able to be in a safe space to ask questions, try out activities and be with other people who understand.  
"I think we would have been a bit lost otherwise," says Parvina. "We've managed to meet local family and friends through their events." 
If you or your family would like to meet other young people with arthritis and get some support, connect with our young people and families service.