Changing the way politicians see arthritis at party conference
24 October 2023

In October, Versus Arthritis attended Conservative, Labour and Scottish National Party conferences.  
These conferences are a time when politicians and members come together to discuss their party's priorities for the year ahead. And they're an important opportunity for our community. 
We took your stories with us 
The stories of people with arthritis are our most powerful tool for change.  
That's why, over the past few months, we've been asking our community to share what it's like living with arthritis and what you think needs to change to help improve the lives of everyone living with arthritis. 
Hundreds of you from our community shared your story. By shining a light on the reality of living with arthritis – day in, day out – we wanted to help grow understanding and inspire politicians at conference to take action.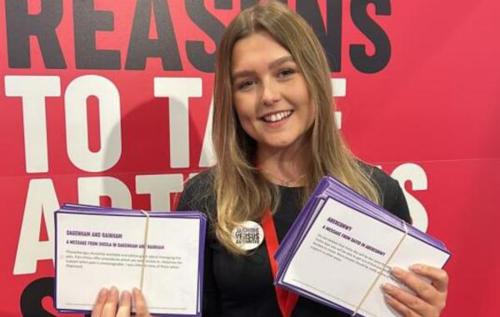 At Labour Party conference, we were joined by Jasmine, a young person with arthritis from our Youth Panel. She shared her personal story with attendees, busting myths and explaining why arthritis should be taken seriously by politicians up and down the country. 
"I loved attending conference. It was very busy, but it was great to be a part of and to actually be able to speak to the people 'higher up' who can help us to implement change for people living with arthritis," says Jasmine.  
"Arthritis is so common, yet still so misunderstood, so it was great to be able to speak to people in person and educate them on arthritis. You could see the shock on peoples' faces when you describe the actual reality of living with arthritis.
"I think the best way we can create change for people living with arthritis is to get involved in things like campaigning. Arthritis needs more awareness, and it should be coming from the people who know best: those with the lived experience."
"I think it is the most effective way to get our message across - to get out there and speak to people so we can help change the future of living with musculoskeletal (MSK) conditions.
"Back when I was a teenager living with arthritis, there is no way I'd have thought I would be able to campaign and talk about my story in the way I do now. Versus Arthritis has helped me share my story and it has made me a stronger, more confident person as a result." 
What were we calling for?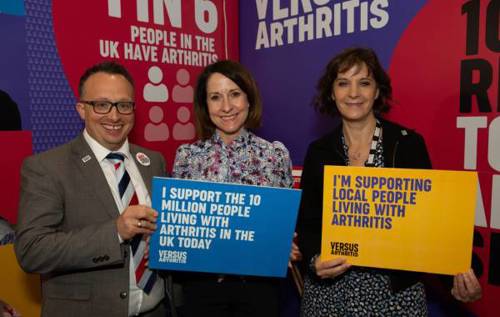 It was great to talk to so many engaged government ministers, Members of Parliament (MPs), Members of the Scottish Parliament (MSPs) about the biggest issues facing people with arthritis today.  
Many wanted to share their own experience of living with arthritis and supported our calls to government. These are to: 
Ensure arthritis is a priority in national health plans including improved data

 

Bring down waiting times for people with arthritis and support them while waiting

 
Increase funding into arthritis research to match its severe impact 

Improve work-related support for people with arthritis

 
Strengthen care and support for children and young people with arthritis.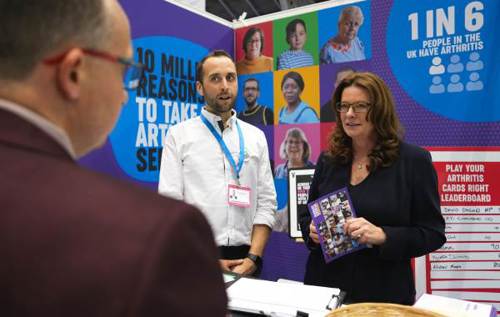 Many politicians spoke to us at our stand at the Conservative and Labour conferences, and in one-to-one conversations at the SNP conference. These included:
Rt Hon Steve Barclay, Secretary of State for Health and Social Care 
Baroness Gillian Merron, Shadow spokesperson for Health and Social Care 
Michael Matheson MSP, Cabinet Secretary for NHS Recovery, Health and Social Care 
Jenni Minto MSP, Minister for Public Health & Women's Health 
Jackie Ballie MSP, Deputy Leader of the Scottish Labour Party 
Rt Hon Gillian Keegan MP, Secretary of State for Education 
Liz Kendall MP, Shadow Secretary of State for Work and Pensions.
Waiting times must remain a priority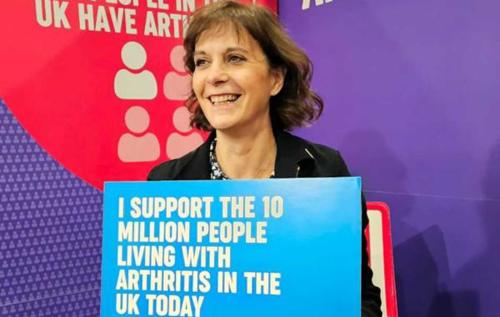 It was great to hear the leaders of all three parties talk about tackling waiting times. 
Prime Minister Rishi Sunak reiterated the government's commitment to tackling waiting times now, and the Leader of the Opposition, Sir Keir Starmer, promised he would put £1.1 billion of NHS funding towards tackling this issue in the future too. 
And at SNP conference in Aberdeen, we were delighted to hear Humza Yousaf, First Minister of Scotland commit to £300 million to tackle waiting times in the nation. 
Long waits for things like joint replacement surgery remain one of the biggest issues facing people with arthritis today, impacting peoples' ability to stay well, stay in work or look after family. It gives real hope to the thousands of people with arthritis waiting for this life-changing surgery. 
However, it's clear more needs to be done to keep the pressure up and make sure that people with arthritis remain a political priority – especially in the lead up to the next general election.  
Pushing arthritis up the political agenda  
We need to make sure that arthritis is made a political priority. To do this, we will be publishing our own manifesto soon, outlining our key calls to the next government.
We will be inviting people with arthritis, staff and supporters to get involved in this work, bringing these calls to local candidates and making sure arthritis is seen as the election issue it deserves to be.