What have we achieved?
Versus Arthritis funded the development of a personalized approach to treating back pain, called the Start Back tool. This new approach enables GPs to quickly and easily group patients according to the treatment likely to work best for them, improving quality of life for people with lower back pain and delivering cost-savings for the NHS.
What problem where we trying to solve?
Lower back pain is a major health problem in the UK, affecting four out of five people at some point in their lifetime.
For most people, back pain is caused by a simple muscle, tendon or ligament strain and they'll recover within a few weeks. However, around three quarters of people who see their GP about lower back pain continue to experience back pain and disability a year after their first consultation.
Ongoing (chronic) severe back pain can impact on a person's ability to work and carry out daily activities, as well as affecting relationships, sleep and mood.
There are a range of treatments available for back pain – including painkillers and other drugs, physiotherapy, occupational therapy and surgery – but previously it was unclear which patients would benefit most from which treatment.
What research did we fund, and what did it reveal?
We funded Professor Elaine Hay and her team from the Primary Care Centre Versus Arthritis, based at Keele University, to develop a new way of grouping patients according to the treatment most likely to work best for them. They hoped that this would improve treatment outcomes for people with back pain.
The STarT Back Tool is a short questionnaire that GPs can use to assess an individual's physical, psychosocial and psychological risk factors for chronic back pain that can be improved with treatment.
The patient's responses are then used to categorise them as being of either low, medium or high risk of experiencing chronic back pain.
Those considered to be at low risk can be given reassurance and advice to self-manage their condition, whereas those at medium or high risk of chronic back pain can be referred for further treatment.
Watch this video on how the Keele STarT Back approach helps match patients to the right treatment with proven benefits for them and health care services.
How effective is the STarT Back tool?
The research team compared the effectiveness of a targeted treatment approach using the STarT Back Tool with current best practice care for patients with low back pain.
People visiting their GP for low back pain were referred to community-based physiotherapy clinics, before being randomised to receive either targeted treatment or current standard care for back pain.
All patients attended a 30-minute session with a physiotherapist, which included:
reassurance
advice on pain relief and activity
self-help information
Those in the targeted treatment group were then assigned further care depending on which risk category they were classified as:
Low risk – a detailed assessment, a video and positive message for recovery.
Medium risk – physiotherapy using a physical approach.
High risk – physiotherapy using a combined physical and psychological approach.
This trial, along with a subsequent trial funded by the Health Foundation, identified significant improvements in symptoms when using the targeted treatment approach compared to usual care.
Specifically, a targeted treatment approach led to:
a reduction in patient-reported disability at 4 and 12 months
50% fewer days off work
30% fewer sickness certificates issued
cost savings to the NHS of £34 per patient
wider societal cost savings of over £400 per patient due to reduced time off work.
The StarT Back approach is now recommended by The National Institute for Health and Care Excellence (NICE), who provide independent advice on which treatments should be adopted by the NHS. Public Health England has determined that for every pound spent on STarT Back, the return on investment is as high as £224.36, making it excellent value for money.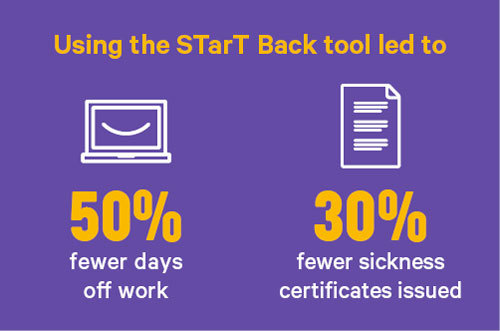 How has the STarT Back tool changed the way health professionals treat back pain?
The STarT Back Tool is now used widely within the UK. It is recommended by the Royal College of General Practitioners, the Department of Health National Spinal Taskforce, and the British Pain Society, among others.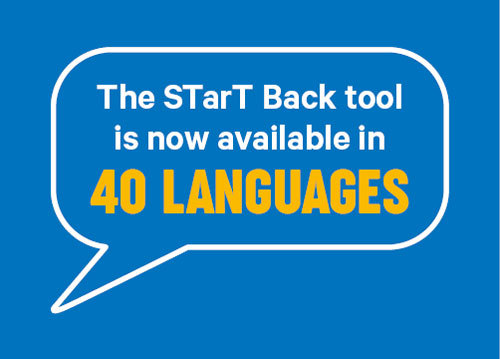 It has also been translated into 40 different languages and is being used in Europe, Africa, Australia, South Africa, New Zealand, Ireland, Hong Kong and North America to classify patients and inform more personalised treatment plans.
The STarT Back tool has its own website which provides free resources for the public as well as information on how to implement the tool into clinical practice for healthcare professionals. The site has had over 190,000 visits since it was relaunched in 2018. Content includes:
Online area for patients, including a new augmented reality evidence based patient information leaflet which has had 2000 scans and has been endorsed by NICE and commended in the BMA Patient Information Awards.